.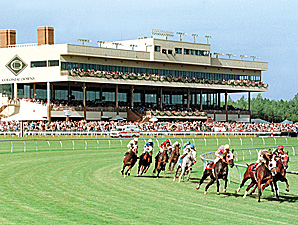 Colonial Downs begins its 2009 meet June 5.
Opening day at Colonial Downs comes a week earlier this year when live racing returns June 5. The following day, Colonial Downs will be open for the first time ever on the same day as a Triple Crown race, the Belmont Stakes (gr. I).
The 40-day meet has five fewer days than in 2008. Colonial Downs, which cards a large percentage of its races on the turf, will race Fridays through Tuesdays. Post time is 6 p.m. EDT Fridays, 5 p.m. Mondays and Tuesdays, and 12:55 p.m. Saturdays and Sundays.
Early nominations for the Virginia track's two signature races, the $500,000 Colonial Turf Cup (gr. IIT) June 20 and $750,000 Virginia Derby (gr. IIT) July 18, closed May 27 with fewer nominations than last year. Emerging turf colts have used the Virginia Derby as a springboard to future successes.
Gio Ponti, the 2008 winner, continues to collect graded turf wins. Red Giant(2007) has the world record at a mile and a quarter on the turf. Go Between(2006) has fared well on synthetic surfaces after a solid turf career.
English Channel(2005) gave the four-race Jacobs Investments $5-million Grand Slam a run for the money, while Kitten's Joy(2004) provided the inspiration for the Grand Slam. Even Silver Tree(2003) continues to race at age 9.
Colonial Downs racing secretary Tyler Pickelsimer believes this year's class is capable of meeting high expectations despite the decrease in nominations.
"We're in good shape quality-wise," Pickelsimer said. "We had fewer nominations (16) than last year, but it should be a strong race."
Among those on the list are Triple Crown starters Chocolate Candy, Summer Bird, Take the Points, and Atomic Rain. Others are El Crespo, Affirmatif, Orthodox, Sleepless Knight, Battle of Hastings, and Giant Oak.
.