.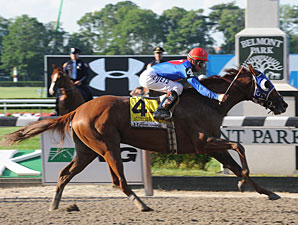 A smaller television audience tuned in this year to watch Summer Bird win the Belmont Stakes.


Overnight television ratings for ABC's June 6 telecast of the Belmont Stakes (gr. I) were down sharply from 2008 figures, which is expected when no Triple Crown is on the line
The overall rating for the two-hour presentation was 4.3. The rating represents the number of televisions tuned to the event, with each point representing approximately 800,000 television sets. While the rating is down significantly from 2008's 8.4 when Big Brown was going for the Triple Crown, it did represent an increase from the last two non-Triple Crown-possible years in 2007 and 2006, which did 3.1 and 3.6, respectively.
For the race segment of the telecast from 5:30-7 p.m. ET, the Belmont did a 5.0, down from last year's 9.5, but up from 2007's 3.5 and 2006's 3.8.
"Given the circumstances, these are terrific ratings that represent an increase in interest in the Belmont Stakes and perhaps horse racing in general," said Mark Mandel, a spokesman for ABC/ESPN.
.