.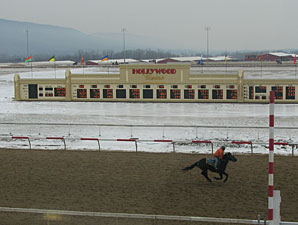 Penn National Race Course
A United Tote official said June 8 the company is working with Hollywood Casino at Penn National Race Course on tote communications failures that have led the track to stop taking wagers when the first horse is loaded into the starting gate for each race.
Because of the failure, pools remained open during the second race at Penn National May 20 and June 5. On May 20, it took more than four minutes after the race began to close pools at all wagering outlets; on June 5, the pools were open 27 to 28 seconds after the race began.
"We are working with (Penn National) to resolve the issues resulting from that communication failure," United Tote president Jeff True said. "United Tote is working on ways to improve the failover process, both through system capability and operational procedures in response to uncontrollable events such as communication or hardware failure. The two recent events at (Penn National) are unfortunate anomalies, and we regret that some patrons were inconvenienced by it."
Chris McErlean, vice president of racing for track owner Penn National Gaming Inc., said shutting pools when the first horse is loaded into the gate isn't ideal, but something needed to be done until the problem is resolved. The early stop-bet order took effect June 6; McErlean said export handle was down that evening, but there could be a number of reasons for that.
"Operationally, there were no issues," McErlean said. "We'll see how it goes and monitor it."
After the May 20 incident, Penn National synchronized its video clock with United Tote. That provided an exact start time for the June 5 race, and because of that, the entire pool wasn't refunded as it had been with the previous incident. More than $150,000 was returned to bettors May 20.
The process June 5, however, took all night, so the second race wasn't made official until about 11:45 p.m. EDT, well after the program had concluded. If it was determined bets were made after "off time," they were refunded. Others were paid their winnings.
True said there was a "communication circuit failure" between Penn National and the United Tote hub in Portland, Ore., just before post time for the second race.
"The failure recovery to the backup circuit was accomplished but resulted in a delay in the stop-betting command being completed," True said. "We polled all the guest sites and got ticket details to compare to our system logs. The result is that some sites' wagers were 'no-merged' from that race because they reported some wagers received past post time due to the delay in stop-betting command.
"The no-merge of some wagers does not reflect improper activity by any patrons or operators, only a delay in the stop-betting command from the host system."
True said United Tote "performed well" at Churchill Downs and Belmont Park during their two Triple Crown days, and processed nearly $240 million combined, "but we also realize that every race is important to our track customers and the betting public they serve."
Thoroughbred Racing Associations executive vice president Chris Scherf said incidents that allow for "past-posting"—making bets after a race begins—are the focus of the TRA 20/20 Committee. The group has spent much of its time the last several years working on tote protocols.
"It's the TRA's top priority right now, and it didn't start a month ago," Scherf said, noting the latest incidents have generated a flurry of meetings.
Scherf said there are pros and cons to every solution. He agreed an early stop-bet order isn't ideal, and could lead to other complications from the customers' standpoint.
The goal, Scherf said, is to be "99.99% effective" with a solution while realizing it won't be perfect.
"You've got a network of computers doing tote and the communications network, so there are lots of points of failure," Scherf said. "I can guarantee (the solution) won't prevent this ever from happening. Murphy's Law exists in horse racing.
"We're trying to winnow down the possible ways to address the problem, and reach a consensus with the tracks and tote companies that can adopt as a solution. We're trying to think our way through all scenarios, but it's much more complicated than anybody would ever think."
.