.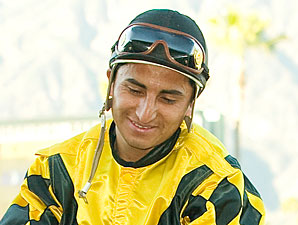 Rafael Bejarano, one of America's leading jockeys, suffered multiple facial fractures as the result of a spill in the third race July 22, opening day of the 2009 Del Mar summer racing season.

According to Dr. Philip Sanderson, the physican who initially examined Bejarano in the track first aid station, x-rays showed that Bejarano suffered fractures of the jaw, nose and orbital bones in the mid-stretch mishap. The fall occurred when Bejarano's mount, th 8-year-old gelding Mi Rey, broke down, unseating the jockey, who appeared to have been clipped by a trailing horse.

Mi Rey, trained by Doug O'Neill, suffered a catastrophic injury to his right front leg during the six-furlong claiming race and was euthanized.

Bejarano, top rider at Del Mar a year ago, also may have suffered an injury in the area of his left shoulder. Further x-rays at Scripps Hospital in La Jolla were scheduled.

According to Sanderson, the 27-year-old native of Peru has been admitted to the hospital and will remain overnight. He also said there is a possibility he will have to undergo surgery to repair his facial injuries.
Bejarano and his mount had been forwardly placed throughout the race and were second near the rail in the stretch when Mi Rey went down. Bejarano was thrown to the inside rail and apparently clipped by Senor Afortunado, ridden by Garrett Gomez, who had no chance to avoid the fallen rider.
Although he sat up following the spill, track medics encouraged the Peruvian rider to lie back down as they fitted him with a neck brace and removed him to the track's first-aid room via stretcher.

Bejarano was conscious and able to move his arms and legs when he was transferred to Scripps. He was being kept on oxygen as a precaution to prevent shock.

Bejarano, a perennial leading rider on the Southern California circuit, won last year's title at Del Mar and recently finished second to Joel Rosario in the Hollywood Park standings.

Mi Rey, an Argentina-bred son of Louis Quatorze out of the Southern Halo mare My Honor, was making the 37th start of his career for a claiming tag of $10,000. He had been claimed by O'Neill, for whom he won twice, from Jeff Mullins in January.
Earlier in his career, he won Argentina's 2004 runnings of the Coronel Miguel F. Martinez Stakes (Arg-II), the Pedro Goenaga Stakes (Arg-II), and the Criadores Argentinos del Sangre Pura de Carrera Stakes (Arg-II). He also finished second in the Estrellas Juvenile – R.F. Lottero (Arg-I). He won 10 of 37 career starts and earned $200,332.
.