.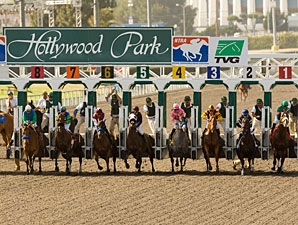 Hollywood Park closed its 55-day spring/summer meet July 19 with a slight gain in on-track attendance, but was unable to overcome the trend of declining wagering which has hit tracks throughout the nation in the difficult economic times.
On-track attendance averaged 6,111 in 2009, up 0.8% from the average of 6,063 during a 60-day meeting in 2008.
The average on-track handle of $1.4 million was down 9.1% from the average of $1.5 million in 2008, while the preliminary all sources handle of $10.5 million was down 11% from the figure of $11.8 million in 2008.
Handle figures improved significantly when Hollywood Park went to a four-day race week from a five-day week in mid-May because of a declining number of horses ready to race.
"Judging by results across the country, we feel we did okay — the best we could under the circumstances," track president Jack Liebau said. "We feel the move to a four-day week was the correct course of action. At the time business was off close to 20% and a purse cut would have been necessary had we continued to run five days a week."
J. Paul Reddam and Zayat Stables topped the owners' standings with eight victories apiece, while Mace and Samantha Siegel's Jay Em Ess Stable was leading earner among owners with $705,620.
Jockey Joel Rosario earned his first riding title in the U.S. with 79 winners, ending Rafael Bejarano's streak of six straight major Southern California riding titles.
Trainer Doug O'Neill won his fourth Spring/Summer title and eighth Hollywood Park title with 37 winners.
.