.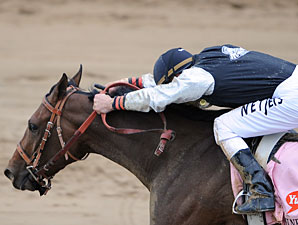 The West Virginia Derby is next up for Kentucky Derby Mine That Bird.
A new chapter in the history of West Virginia racing began being written at 1:47 p.m. EDT Jluy 24. That's when this year's Kentucky Derby – Presented by Yum! Brands (gr. I) winner, Mine That Bird, stepped off the van at Mountaineer Casino Racetrack & Resort.
Mine That Bird's next start will come at Mountaineer Aug. 1, in the 40th running of the West Virginia Derby (gr. II). It will be the first time in the state's history that any Kentucky Derby winner has run at a West Virginia track.
Trainer Bennie "Chip" Woolley Jr. said Mine That Bird will "gallop (at Mountaineer) on July 25-26, and do a four- or five-furlong breeze on Monday. We'll walk him on Tuesday and then gallop up to the race." George Smith, stable hand from Woolley's home state of New Mexico, will handle exercise chores.
"When he gallops, it will probably two circuits of the oval – won't take more than ten minutes," Woolley said. "Mine That Bird's a pretty laid-back horse, he doesn't need much. Indeed, the gelded son of Birdstone reminds one of a superbly conditioned middle weight prize fighter – not bulging with muscles, but lean, sharp, and fit, a package of coiled strength, which is the way it usually is with top-tier Thoroughbreds."
The six and a half-hour van ride from Churchill Downs in Louisville was uneventful, or at least mostly so. "Right at the end, we kind of got lost," Woolley said. "The GPS in my truck sent us to the intersection of 2nd Street and Indiana Avenue (in the nearby town of Chester).
"There was nothing there but a bunch of houses, and some kids playing on swings," said Woolley. "I said, 'I don't think this is it.' Then a guy who's a valet at Mountaineer saw us and said, 'I bet you're the Kentucky Derby guy. Get back on the main drag and head south.' And we did and we got there."
Mountaineer will provide 24-hour security at the track's stakes barn. The whole facility promises to be a lively place on West Virginia Derby weekend. The race, which will be televised live from 5 – 6 p.m. EDT on Fox Sports Net, will receive national and international coverage.
Print reporters from as far away as London, England, are coming in to cover the West Virginia Derby. A racing fan called the Mountaineer press office this past Tuesday and said that he and his family are driving 800 miles from Madison, Wisconsin, to see Mine That Bird run.
.