.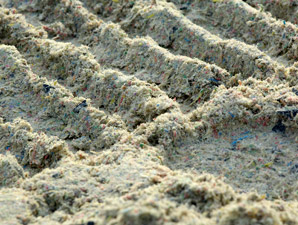 A post-mortem report presented to the California Horse Racing Board Aug. 27 at Del Mar tends to support trainers who complain that synthetic tracks lead to more hind leg injuries.
In 2008, 19 Thoroughbreds from a total of 111 that died on synthetic tracks in the state succumbed to catastrophic hind-end leg injuries, according to a preliminary CHRB/University of California-Davis report.
That compared to just one death as the result of a hind-leg injury among 65 Thoroughbreds that succumbed during racing or training on dirt tracks during the same period, according to the report. Dr. Hailu Kinde, who has been with the post-mortem program at UC-Davis since 1991, presented the figures to the board.
"This actually confirms that there are additional hind-end injuries on synthetic surfaces, which is what trainers have been telling us," said Dr. Rick Arthur, the CHRB's equine medical director.
Sesamoid fractures resulted in 81 deaths and were the most common of fatal skeletal injuries, Kinde said.
There were a total of 351 horse deaths for all breeds within racing enclosures in the state during 2008: 163 fatalities occurred during racing, 93 while training and 95 of non-exercise related causes such as gastro-intestinal or respiratory problems, Kinde told the board. Equine deaths by breed broke down as follows: Thoroughbreds, 258; Quarter Horses, 86; Standardbreds, 4; Arabians, 3.
Catastrophic breakdowns in front legs in Thoroughbreds, which numbered 135, according to the report, remained much more prominent than hind leg breakdowns.
The 2008 totals were punctuated by an increase in Quarter Horse deaths on Los Alamitos' dirt track, which doubled over the preceding year.
Horse deaths for all breeds have shown an increase at racetracks in the state since 2004, but Arthur noted that only in the past couple of years has the data collection been very reliable. He said the program's full annual written report should be available within a couple of weeks.
"I'm very pleased with the better data we are getting," Arthur said. Eventually, he hopes to be able to produce quarterly reports on equine deaths "so we can figure out what's going on and how to respond."
But Arthur said that in 90% of racetrack fatalities, the horse had a pre-existing injury that led to the catstrophic breakdown.
"To think that this is only a racetrack problem, and that we will solve the problem by fixing the racetracks is terribly naive," Arthur said.
.