.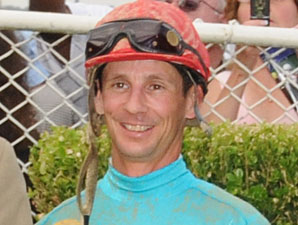 Dale Beckner


Jockey Dale Beckner, who rode longshot Soul Warrior to victory in the Aug. 1 West Virginia Derby (gr. II), was seriously injured Aug. 28 in an accident at Presque Isle Downs.
Beckner, 37, was aboard the Rick Beattie Jr.-trained Private Exchange in the first race of the day at the Pennsylvania track, a six-furlong event for $7,500 claimers. When the 4-year-old colt broke down suddenly at the nine-sixteenths pole, his rider appeared to be kicked in the head by a trailing runner. Private Exchange was euthanized following the accident.
According to the jockey's girlfriend, Chamisa Goodwin, Beckner sustained multiple fractures to his facial area, eye sockets and nasal passages, and part of his skull. He was conscious and in good spirits Aug. 29 at University of Pittsburgh Medical Center, she said, although doctors were monitoring his condition for slight bleeding on the brain.
"They're going to have to put some hardware in his skull; a plate and screws," she said. "They haven't given me an exact date yet but he'll be in ICU for at least a couple of days and undergo surgery in about a week."
Beckner is a native of Spokane, Wash., and won the Eclipse Award as outstanding apprentice jockey in 1994. He ranks sixth in the standings at Presque Isle's current meet behind leader
Hubert Villa-Gomez with a 46-39-53 record from 300 starts.
.