.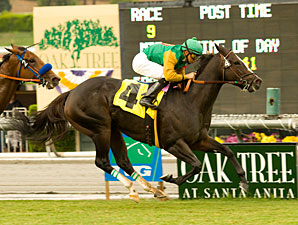 The Oak Tree at Santa Anita meet begins September 30.



The Oak Tree Racing Association has announced that OakTreeBets.com, a new, no-fee online and telephone wagering service that enables bettors to wager coast-to-coast on Thoroughbred and harness tracks, is now available. It will enable those who subscribe to wager on live racing from Oak Tree, which begins at Santa Anita Park on Sept. 30.
In addition, Oak Tree also announced that HorseRacing TV, for the first time, will be able to provide, on a non-exclusive basis, live on-site daily television coverage throughout the six-week Oak Tree run at Santa Anita. Broadcasting rights had previously been held exclusively by TVG.
OakTreeBets.com, powered by XpressBet, does not charge membership, monthly or per-wager fees. As a start-up incentive, it offers qualified new account holders who wager $100 a matching $100 wagering credit that will be deposited to their accounts the very next day.
Profits from the new wagering service will be split evenly between the horsemen's purse account and Oak Tree.
"This is a great service to our fans and to our horsemen," said Sherwood Chillingworth, Oak Tree's executive vice president. "As was the case with Del Mar Bets this past summer, we are getting the money to where it belongs, to the people who make our sport go.
"We have no doubt that this new service is going to be very popular with everyone. The fact that people can now wager without being charged for each transaction is long overdue."
For more information on Oak Tree Bets.com, see www.oaktreeracing.com.
.