.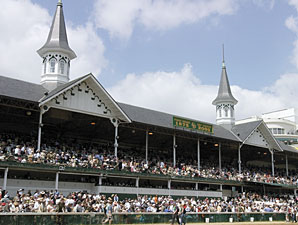 Churchill Downs and Kentucky horsemen have reached a three-year agreement that sets purse payments, establishes purse supplements and ends a legal dispute that began in the spring of 2008.
The deal, announced Oct. 23, comes as the Kentucky racing industry faces increasing competition from other states whose racetracks pay purses and breed development funds inflated by gaming revenue.
Money aside, it also sends a message. Horse industry representatives have said some Republican lawmakers are attempting to divide horsemen and racetracks over the issue of racetrack gaming in Kentucky.
Churchill, the Kentucky Horsemen's Benevolent and Protective Association, and the Kentucky Thoroughbred Association agreed on the contract. The Kentucky HBPA and KTA both have negotiating rights at Churchill. The last contract expired after the 2008 spring meet.
As part of the deal, the Kentucky HBPA and Churchill Downs Inc. agreed to dismiss their claims against one another in a lawsuit filed in United States District Court for the Western District of Kentucky. In that suit, horsemen were seeking more revenue from account wagering, and claimed purse reductions at Churchill were done in retaliation.
A release didn't specify the agreed-upon purse levels, though purses at Churchill are among the highest in the country. The supplement is $1.5 million spread evenly over three years; Churchill can distribute a greater share early in the three-year period should purses below anticipated levels, officials said.
"Churchill Downs is very pleased to be part of this long-term agreement that is good for horsemen, Churchill Downs, Kentucky's embattled horse industry, and racing fans in Kentucky and throughout North America," Churchill president Kevin Flanery said in a statement. "This three-year pact between our track and horsemen comes at a crucial time for Kentucky's horse industry as horses and horsemen are leaving our state to pursue the growing purses and breeding incentives that exist in states with slots and other expanded wagering options at their racetracks.
.