.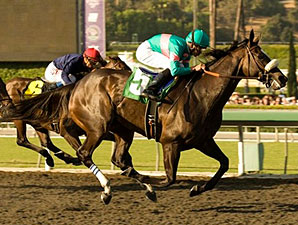 Zenyatta cruises to win #13 in the Lady's Secret.



As professional as ever, undefeated Zenyatta equaled the legendary Personal Ensign's 13-race winning streak to begin her career, sweeping past the pacesetters in upper stretch to capture Oak Tree's $300,000 Lady's Secret Stakes (gr. I) (VIDEO) before 20,329 at Santa Anita in characteristic fashion Oct. 10.
Ridden by Mike Smith, the 2-5 favorite joined rare company with Personal Ensign, who beat males in the 1988 Whitney Handicap (gr. I) at Saratoga, then ended her career by defeating Kentucky Derby (gr. I) winner Winning Colors by a nose in a classic Breeders' Cup Distaff (gr. I) that year.
Zenyatta has an invitation to defend her title in the Breeders' Cup Ladies' Classic (gr. I) with the win, but her connections, owner Jerry and Ann Moss, trainer John Shirreffs, are also considering a run against the males in the $5 million Breeders' Cup Classic (gr. I).
Zenyatta unwound her patented late kick while going wide on the final turn of the 1 1/16-mile test and blew past the pacesetting Briecat and several others to take command in the stretch. She held sway late under smooth handling to win by just over one length over runner-up Lethal Heat in a time of 1:42.89 over the Pro-Ride racing surface. Cocoa Beach, the runner-up to Zenyatta in last year's Breeders' Cup Ladies' Classic, finished third, with Zenyatta's stablemate Life Is Sweet finishing fourth.
"I don't know," Shirreffs said of the BC Classic. "It's not my decision to make." Asked what he would tell owners Jerry and Ann Moss about where to run next: "There's time to decide. We're not going to decide (at) this moment."
Shirreffs added, "She ran her race. That's Zenyatta. She does whatever is necessary. I'm like everybody else. I love to watch her. She's like a ship when she's coming down the stretch. You hardly ever see any horses inside of her because she takes up so much of the picture you're looking at. Thirteen in a row . . . Personal Ensign, I mean, it's historic. It's a once in a lifetime horse, believe me. You don't see Zenyattas. They come so seldom, it's unbelievable that she's here, in Los Angeles, at Santa Anita, and it's a blessing, really."
Zenyatta, who counts seven grade I victories among her accomplishments, has now earned $2,774,580 in her career. She is four-for-four on Santa Anita's main track.
Jerry Moss said Zenyatta would be pre-entered in both races.

"The horse is going to make the decision," he said. "We want her to do well and be safe and be happy, but we also want to see how much she's got in her tank."
A smiling Smith pointed down at Zenyatta as he guided her into the winner's circle, greeted by loud cheers from the fans, many of them lining the rail from mid-stretch to the finish line to watch the nation's other star female.
"Ability-wise, she can run with anyone, anytime, anywhere," Smith said in obvious reference to Rachel Alexandra. "She has an amazing turn of foot, one that I've never seen before. No disrespect to the other horses today, but she only ran about four jumps when we turned for home and then she shut it down.
"I knew the pace was slow and going to the far turn, everybody has to get into some kind of position. I just have so much confidence in her and today, she had 10 gears and she only had to use four of them. She really loves this track over here."
Zenyatta won a day after the owner of Rachel Alexandra said the star filly who beat the boys in the BlackBerry Preakness (gr. I) and Woodward (gr. I) was done racing for the year, ensuring they won't meet in a Breeders' Cup showdown.

Zenyatta pawed the ground with her right hoof in the winner's circle before Smith jumped off and planted a kiss on her flank. Actress Bo Derek, a member of the California Horse Racing Board, presented the trophy.
Zenyatta paid $2.80, $2.40 and $2.10. Lethal Heat returned $7.40 and $4.20, while Cocoa Beach was $3 to show.
.