.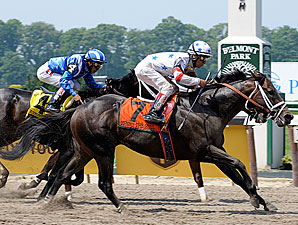 Benny the Bull
Benny the Bull, the 2008 Eclipse Award-winning sprinter when he won all four starts, has been retired from racing and acquired by Greg James, according to a release from IEAH Stables (Michael Iavarone, president). Breeding plans are being finalized.
"I'm very proud of Benny the Bull's racing career and have enjoyed it every step," said James, who raced Benny the Bull with IEAH, Andrew Cohen, Pegasus Holdings Group, and Sanford H. Robbins. "To acquire him as a yearling and watch him develop into such a brilliant and accomplished racehorse was a great thrill, and I really believe his brilliance can translate to success in the breeding shed. He deserves the chance, and we're excited about it.
"I'm appreciative of the Benny the Bull racing partnership and it's encouraging to know that he'll continue to have support on that end in his stud career."
James raced Benny the Bull through the first nine starts of his career, when his accomplishments included a win in the 2007 Iowa Sprint Handicap in June 2007 while trained by Jeff Talley. Shortly thereafter, James sold controlling interest in Benny the Bull to a partnership headed by IEAH and retained an ownership interest in the deal.
Turned over to trainer Richard Dutrow Jr., Benny the Bull won the 2007 Frank J. De Francis Memorial Dash Stakes (gr. I) at Laurel. In 2008, he captured the True North Handicap (gr. II) at Belmont Park, the Smile Sprint Handicap (gr. II) at Calder Race Course, the Sunshine Millions Sprint Stakes at Gulfstream Park, and the Gulf News Dubai Golden Shaheen (UAE-I) in Dubai, where he was named a champion.
This year, Benny the Bull ran second in the Smile Sprint and the Truth North and fourth in the Alfred G. Vanderbilt Handicap (gr. II) at Saratoga.
IEAH Stables and partners have retained breeding rights in Benny the Bull and will support the horse in his stud career.
"Benny always came to run and was long one of my favorites at the barn," Iavarone said. "He gave us plenty of thrills and his ability and heart cannot be questioned."
Benny the Bull, a 6-year-old horse by
Lucky Lionel
out of stakes winner Comet Cat, by Birdonthewire, won or placed in 14 of 20 starts and earned $2,353,430. He was bred in Florida by Tomoka Farms.
.