.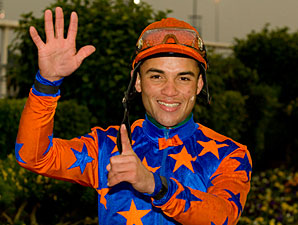 Joel Rosario celebrates 6 wins at Hollywood Park on December 11
Joel Rosario equaled the Hollywood Park record for most wins in a day when he won with six of his seven rides on a wet Friday, Dec. 11, at the California track.
Rosario, a 24-year-old native of Santo Domingo in the Dominican Republic, finsihed second in the first race on the eight-race program and then won with his six remaining mounts. Cadillac, the horse he was scheduled to ride in the seventh race, was scratched.
Rosario won races two through six, sat out the seventh, and then rode eighth-race winner Stockings. Thorugh 21 days of the 27-day meet, Rosario leads the standings with 31 wins, eight more than second-place Rafael Bejarano.
Rosario's wins and payoffs were Pick To Click ($6.80), Yankee Romance ($2.60), Madeline Ruby ($6.40), A Clever Ten ($5.40), Free Lunch ($3.20) and Stockings ($3.40).
"The first time I do this in my life," Rosario said. "I won five before and was second and third, but now six, so I am very happy. I feel great, not many jockeys do that, so I am very happy for this.
"I always like my horses," he added "You ride your horses, I don't care if they are 99-1 or even money, we have a chance to win."
Shoemaker set the Hollywood Park record of six wins with eight mounts on June 20, 1953, and scored with six of seven mounts on June 24, 1970. Laffit Pincay Jr. rode six winners from nine mounts on April 27, 1968, and Kent Desormeaux rode six winners with 10 mounts on July 3, 1992.
.