.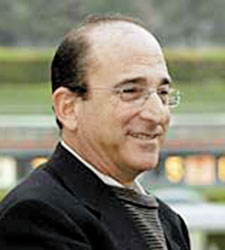 Richard Shapiro, the former head of the California Horse Racing Board, was charged with one felony count of vandalism for allegedly damaging a vehicle owned by a longtime rival, according to the Los Angeles Times.
Shapiro was charged with a felony because of the amount of the financial damage done to Jerry Jamgotchian's late-model Jaguar XJS, Los Angeles District attorney spokeswoman Sandi Gibbons told The Times. Shapiro was not immediately available for comment and Jamgotchian declined to comment.
Jamgotchian, a horse owner and CHRB critic, accused Shapiro of using a key to scratch his vehicle in the parking lot of Hollywood Park April 24. The incident allegedly occurred during a meeting of the CHRB that both men attended at the Hollywood Park Casino. Jamgotchian claims that the damage to his vehicle totaled $6,700.
Lt. Mike McBride of the Inglewood PD's detective bureau said May 14 that police have possession of videotape filmed by a parking lot surveillance camera that purports to show the commission of the crime. The video was supplied by the Hollywood Park security force.
"We have the video and we are in the process of reviewing it," he said at the time..
Shapiro, who resigned his chairmanship on the board in December, is currently a consultant with the California Horse Racing Alliance, a group of industry representatives. During his four-year stint as CHRB chairman, he and Jamgotchian clashed on practically every issue that came before the board. Jamgotchian became well known for his e-mail attacks against Shapiro and Ingrid Fermin, the agency's former executive director.
Jamgotchian has also filed a formal complaint with the CHRB in Sacramento seeking to have Shapiro's racing license revoked. Shapiro has declined to comment, referring questions to his attorney.
.