.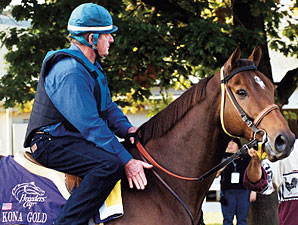 Kona Gold
Kona Gold, a resident of the Hall of Champions at the Kentucky Horse Park, was euthanized Sept. 25 after a paddock accident. The 15-year-old gelding had resided at the park since November 2007.
Cathy Roby, Hall of Champions manager, said a visitor alerted the staff to a problem with one of the horses at about 8:30 a.m. EDT, just before the Hall of Champions residents are usually brought in for the day.
Kona Gold, peacefully pastured with Da Hoss, had sustained a spiral fracture of the left forearm sometime overnight, as X-rays at Hagyard Equine Medical Institute would later show. Surgeons at Hagyard concluded that, due to its location, the injury could not be repaired.
Roby said Kona Gold's co-owner and trainer Bruce Headley was in town for the Keeneland sale, and made the decision to euthanize the champion.
"They said they didn't want him to suffer, and it really didn't seem like there was anything logical that could be done," Roby said.
The cause of the injury is unknown. While a steady rain throughout the week in Central Kentucky made conditions slick, neither of the horses were muddy. Roby said she didn't think a kick would cause a fracture of that type.
"The only thing we can think of is maybe he just twisted it wrong," Roby said.
This has been a tough year at the Hall of Champions. Alysheba, a Kentucky Derby (gr. I) winner and Horse of the Year, was euthanized March 27, 2009, just a few months after he took up residence in the stall formerly occupied by champion John Henry, a 22-year resident who was euthanized in October 2007.
As a retirement home for equine legends, the staff at the Hall of Champions expect to one day say goodbye to their charges—but not at age 15.
"This just totally blows your mind. He was the second-youngest horse in the barn – you'd never expect it," Roby said. "It's so surreal—I guess it hasn't soaked in yet, but it doesn't seem real."
.